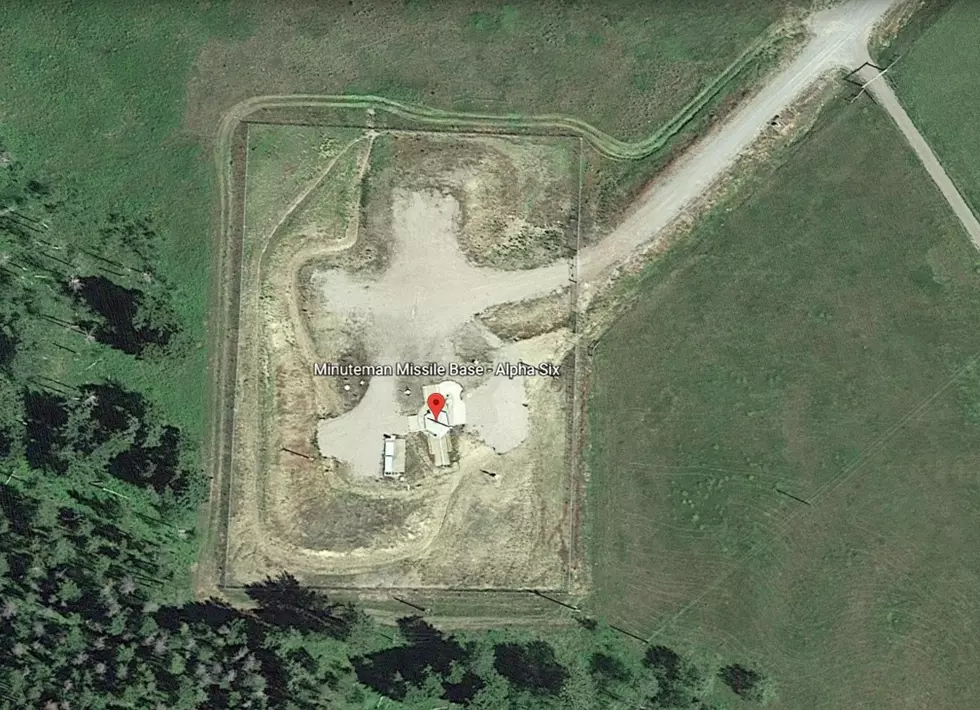 Where Exactly Are Montana's Missile Silos Located And What Do They Look Like?
Missile Base Montana aerial - Google Earth
It's no secret that Montana has some Minuteman Missiles stashed for a rainy day. If you're familiar with the small town of Monarch, you might already know where one of these nuclear missile silos is located. Pretty subdued place, as it should be. Whatever the total of Montana's arsenal is, they aren't just lined up nice and tidy at Malmstrom. They're far more spread out in several locations.
The silo pictured here is easy to find with a simple Google search. It's tucked away in a field surrounded by tall trees and flanked by Belt Creek. Looks like a lovely place for a picnic or a kegger if you didn't know any better. (NOTE: This is NOT a good place for a picnic or a kegger. Trust us.) When you zoom out a bit, you can better understand the "hidden in plain sight" vibe of this particular silo in Monarch, Montana.
Driving by that intersection looks like no big deal. Just a bridge that takes you over the creek to someone's property, right? Not exactly. I have no idea where they are, but I'm quite certain there are no fewer than four cameras on you if you're standing anywhere in these pictures. The road is the road...it takes you through Neihart and Monarch. (Stray from that highway much and I'm sure you'll be "having a conversation" with someone official. At least that's my guess.)
So what exactly are we talking about when Minuteman Missiles are being discussed? Really important ICBMs in the nuclear arsenal. There have been different incarnations of the Minuteman - upgrades if you will. According to Wikipedia:
As of 2023, the LGM-30G Minuteman III version is the only land-based ICBM in service in the United States and represents the land leg of the U.S. nuclear triad, along with the Trident submarine-launched ballistic missile (SLBM) and nuclear weapons carried by long-range strategic bombers.

The moral of this story is that missile silos and launch areas really aren't that hard to locate. That doesn't mean you should take a self-guided tour or anything, but it DOES make you wonder...shouldn't it be slightly more difficult to find these things?
The 341st Missile Wing, headquartered at Malmstrom Air Force Base, Montana, is one of three U.S. Air Force Bases that operates, maintains and secures the Minuteman III intercontinental ballistic missile (ICBM). The 341st Missile Wing reports directly to 20th Air Force, at F.E. Warren Air Force Base, Wyoming, and is part of Air Force Global Strike Command, headquartered at Barksdale Air Force Base, Louisiana.
The Top 5 Most Rural Post Offices Of Small Town Montana
Some of Montana's rural post offices don't even make it onto Google Street View, but they're incredibly important hubs in rural parts of the state. We did a little digging and found a few hidden gems. Take a look!
More From 93.3 Eagle Country