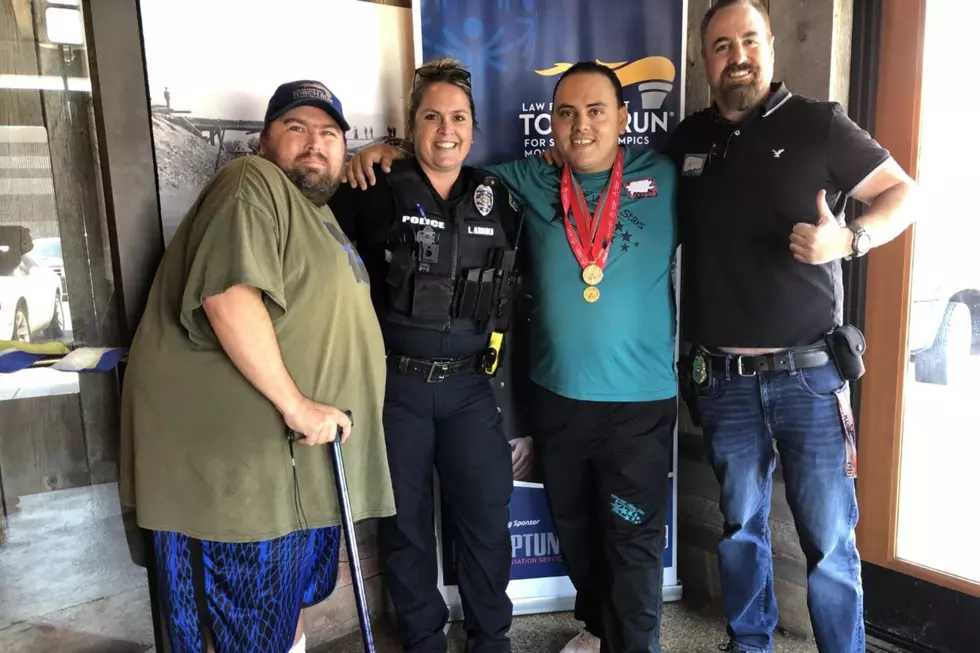 Missoula Law Enforcement Support Montana Special Olympics
Credit: Peter Christian
Tuesday has been a special day at both McKenzie River Pizza locations in Missoula, as the restaurant has generously allowed representatives from Montana Special Olympics and local law enforcement personnel to take part in the 'Tip a Cop' for Special Olympics campaign.
We spoke to Frank Zapata, one of the Special Olympics athletes who was helping to serve at the restaurant on Tuesday afternoon.
"Today I'm raising money for Special Olympics," said Frank. "Today is 'Tip a Cop' day to reach out and support the community about Special Olympics. I play basketball, Bocce ball, bowling, and snowshoeing. I'm originally from California but now I live in Hamilton, Montana. I'm actually welcoming people today at McKenzie River. "Tip a Cop is about reaching out to our community and I want to say thank you to all the officers that are here right now. I'll be here till 8:30 (p.m.) Come see Frank!"

Missoula Police Department Public Information Officer Lydia Arnold was also on hand to greet and serve the McKenzie River customers.
"We are here supporting Special Olympics and their fundraising goals to support their events," said Arnold. "We're doing Tip a Cop at Mackenzie River and the reception has been great. It's been great to see people come in and so far we've had a lot of great support from a lot of people. I am currently assisting with hosting and seating people and explaining why we are here but we do have other law enforcement personnel as well as athletes who are doing filling drinks, bussing, and assisting with the experience of having lunch here."
Scott Bulyer was also on hand at the restaurant representing law enforcement and accepting donations for Special Olympics.
"We don't want to take away from the work that the servers do so it's obviously in addition to that," said Bulyer. "People have been really responsive and it's just been really nice to see all the positive donations that people have been making today.
I'll be here till about three o'clock, but we'll have law enforcement present all the way till closing."
Special Olympics spokesperson Amy Bliss added her comments about the event.
"We have celebrity servers like our officers and Special Olympics athletes," said Bliss. "The restaurant is collecting an additional tip to help with donations for Special Olympics. We do it all; we bussed tables, refill drinks, help the servers take orders, and kind of just help out the restaurant by doing whatever we can. And then we're also collecting donations in addition to people tipping their servers and all those donations benefit local athletes here in Missoula, as well as the state office for Special Olympics."
Bliss thanked both McKenzie River restaurants in Missoula for their generous help in fundraising.
LOOKING BACK: Photos of Missoula and How It's Changed
Check out these photos of how Missoula has changed over the past decade.
10 Businesses That Should Open a Location in Missoula
We asked, and you answered, and then we brainstormed a little bit too. Here are 10 businesses that we think should open a location in Missoula, Montana.
The 14 Best Places in Missoula to Take Visitors From Out of Town
We asked locals where they like to bring visitors when they take a trip out to Missoula - and here's what they came up with.
More From 93.3 Eagle Country